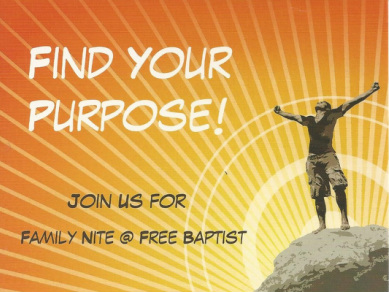 Family Bible Nite @ Free Baptist
Every Sunday 5:30 to 7:00 pm

Discovering God's Purpose for Your Life!

Programs for all ages.



​
---
The Word of Life Gopher Buddies is for children ages 4 & 5. Believing that the Bible is true and relevant for children, we endeavor to lead each child to an understanding of foundational scriptural truths. The weekly Bible study, combined with parental interaction at home, will affect changes in the character and conduct of each child.

Our goal is to provide elementary students a vehicle for study, meditation and instruction from the Word of God. As we train youth to accurately handle Scripture, obedience will become part of their lives and they will be equipped for Christian service.
Grades 1-6.

The Solid Rock Teens Club is for Teens in Grades 7-12. We want to reach youth whose needs constantly change with biblical truth that never changes! This will happen as we evangelize and disciple young people to a dynamic Christian life by mature leadership through the local church.





Join us on Sunday evenings from 6:00 to 7:00 pm as we study God's Word. The Adult Study is on the Book of Leviticus, Numbers and Deuteronomy.



---

Teaching Schedule
Sunday Evening - Winter 2018

Chapter
Leviticus
Ch. 21-22
Ch. 24-27
Numbers​
​Ch. 1-10
Ch. 11-14
Ch. 16-17
​Ch. 22-25
​Ch. 26-36
DeuteronomyCh. 1-3
Ch. 4-7
Ch. 12-18
Ch. 14-16
Ch. 17-21
Ch. 21-25
Ch. 26-30
Ch. 31-34



Date

February 18
February 25

​March 4
March 11
March 18
March 25
​April 8

​April 15
April 29
May 6
May 13
May 27
June 3
June 10
June 24

​

Teacher

Nathan Ford
Dwayne Morin

Pastor Storey
Craig Kelley
Dwayne Morin
Craig Kelley
Pastor Storey

​Nathan Ford
Craig Kelley
Pastor Storey
Dwayne Morin
Craig Kelley
Nathan Ford
​Pastor Storey
Dwayne Morin




---
Building Faithful Friendships - Women's Ministries

The heart of this ministry is to encourage women to continue to actively grow in their relationship with our Savior and Creator, Jesus Christ. We also want to encourage women to build godly friendships that would advance that growth.

Colossians 3:15-17(NKJV)
And let the peace of God rule in your hearts, to which also you were called in one body; and be thankful. Let the word of Christ dwell in you richly in all wisdom, teaching and admonishing one another in psalms and hymns and spiritual songs, singing with grace in your hearts to the Lord. And whatever you do in word or deed, do all in the name of the Lord Jesus, giving thanks to God the Father through Him.


---



Upcoming BFF Events

Revive Us Again

April 20-22, 2018

​Cost $120.00

Speaker - Beth McMahon
​
Please see Theresa, Shannon or Julie for more information on BFF Events.


---